Ari 902 The German Small Cheap EV
Written by : Ashton G. Curran
Date Published : 2023-04-14
Date Updated : 2023-04-14
Category / Tag : articles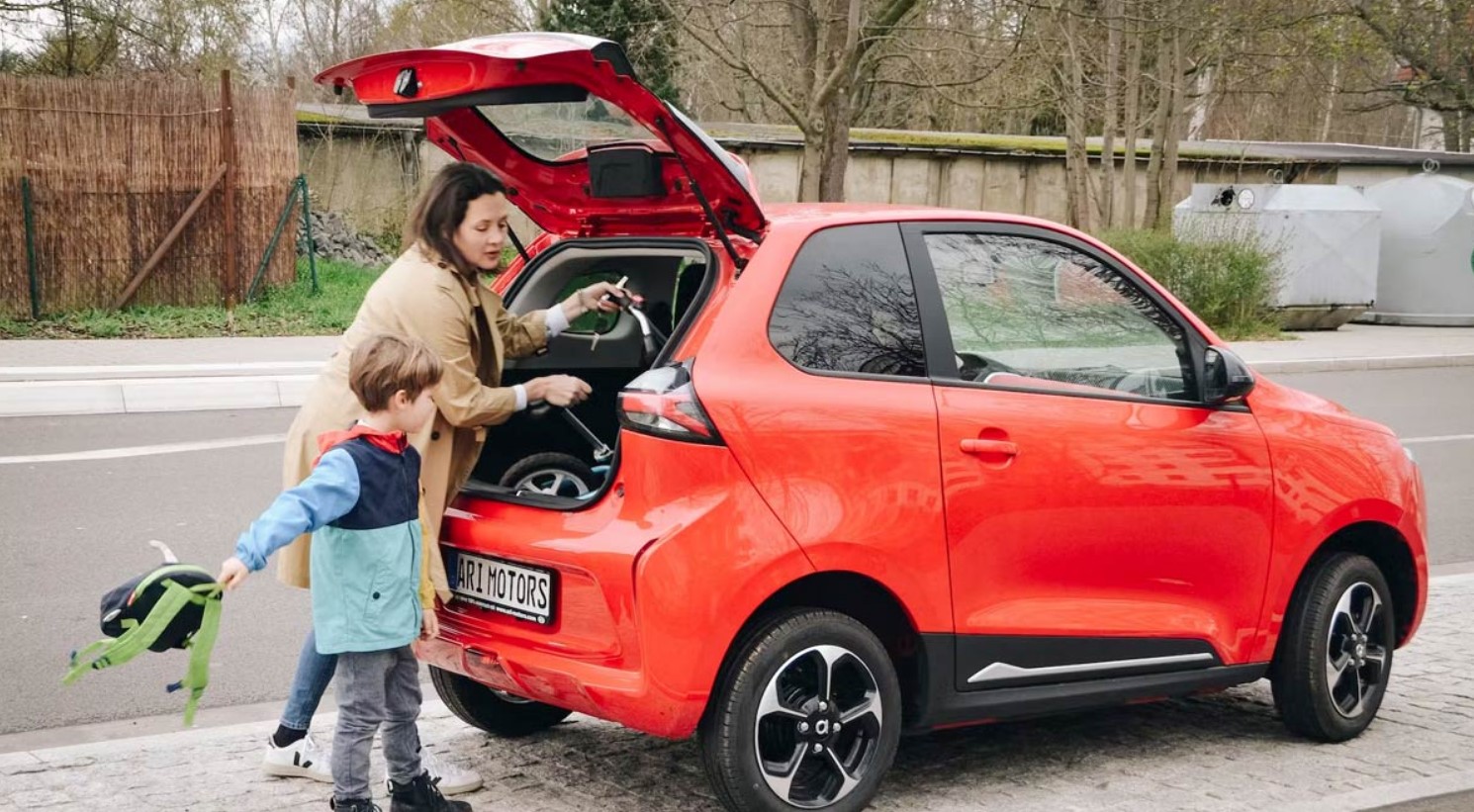 German automaker Ari Motors has unveiled its new mini-electric car, the Ari 902, which is set to compete in the compact segment of the European market, unlike other small electric cars, the Ari 902 has room for two people and offers a generous luggage capacity of 766 liters with a maximum load of 190 kilos....
The car is equipped with a 15 kW electric motor, which gives it a top speed of 90 km/h.
The price starts at €13,990.
The Ari 902 is available in three different battery sizes.
The standard 9.5 kWh battery provides a range of 110 kilometers, while the largest 19 kWh battery adds €1970 to the price and offers a range of 200 kilometers.
The car can be charged in a normal 230-volt outlet.
Ari Motors has developed the model with European cities in mind, and offers three versions of the car: one focused on passenger transport and two more practically designed for handymen or small delivery companies.
The comfort and safety features of the car are extensive, with electric windows, ABS brakes, power steering, air conditioning, central locking with remote control, a wooden cargo floor with four cargo loops, a cargo grid, reverse start, reversing camera, and LED lights.
The additional Comfort package offers extra features such as fog lights, a sunroof, a driver assistance system with automatic brake, and a roof rack.
Small and compact electric cars are a popular choice in China, with models such as the GM Wuling Hongguang EV being the best-selling electric car in the country for several months.
However, such models have been less common in Europe, particularly those with a small price tag.
Ari Motors aims to fill this gap with its new offering.
The Ari 902 is unique in its size and features, making it more like a passenger car than a work vehicle or moped.
Its compact size of 2.95 meters in length, 1.5 meters in width, and 1.5 meters in height makes it ideal for driving in crowded European cities, where parking is at a premium.
Ari Motors has a history of producing small and compact work vehicles and mopeds with electric drive.
The company's decision to enter the passenger car market reflects the growing demand for small and affordable electric cars in Europe.
The Ari 902 is not only affordable, but also environmentally friendly, with zero emissions.
It is expected to appeal to a wide range of consumers, from city dwellers to small business owners.
The car's spacious luggage capacity and generous load limit make it ideal for transporting goods, while its compact size and efficient electric motor make it a practical choice for navigating busy city streets.
In conclusion, the Ari 902 is an exciting new addition to the European market for small electric cars.
With its unique combination of passenger car features and work vehicle practicality, it is sure to attract a wide range of consumers.
The car's affordability, environmentally friendly credentials, and spacious luggage capacity make it a compelling choice for city dwellers and small business owners alike.