Disney Teams Up With Hyundai For The Disney 100 Celebration
Written by : Ashton G. Curran
Date Published : 2023-04-08
Date Updated : 2023-04-08
Category / Tag : hyundai
Disney Teams Up with Hyundai for the Disney100 Celebration: Introducing the IONIQ 5 Disney100 Platinum Concept....
This year, Disney celebrates its 100th anniversary, and it has teamed up with Hyundai as the exclusive North American automotive sponsor for the Disney100 celebration.
During the Oscars last month, Hyundai introduced its 60-second commercial featuring the Tucson and IONIQ 5 electric vehicles with some of the most popular Disney characters.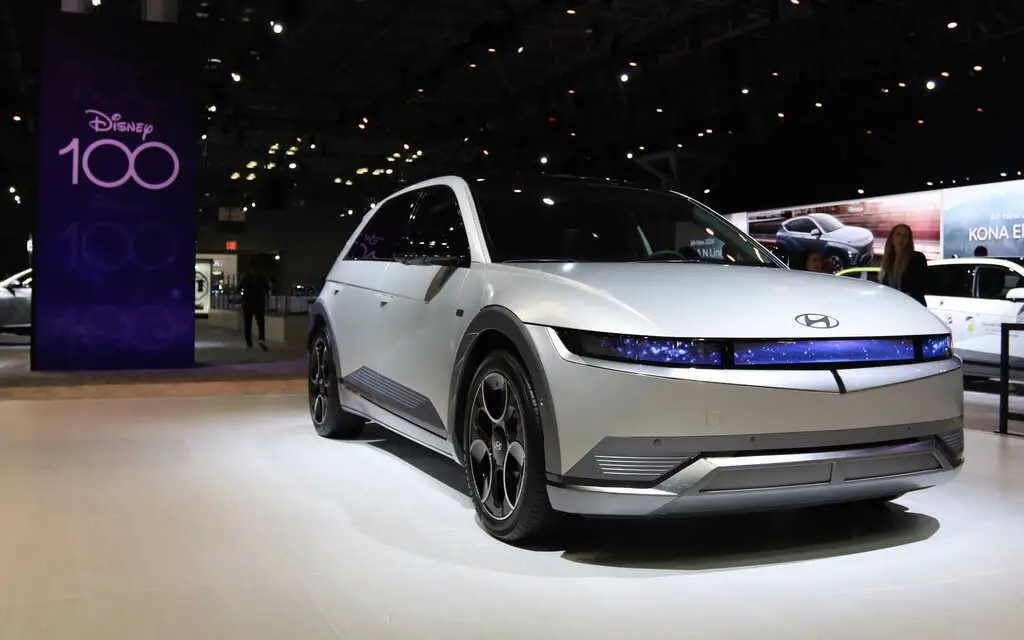 Now, the IONIQ 5 Disney100 Platinum Concept debuts at the New York Auto Show, featuring exclusive design elements inspired by Disney's iconic characters.
Disney's Imagineering design studio opened its doors for the first time to grant an automaker access to its famous characters.
The collaboration resulted in the IONIQ 5 Disney100 Platinum Concept, a car that stands out with its unique design, setting it apart from the Honda Minnie Van Odyssey of 2017.
The IONIQ 5 Disney100 Platinum Concept boasts a Gravity Gold paint in a matte finish, unique-looking wheels with Mickey Mouse-inspired ears, lamp screens with Disney sparkle animations on the headlights and taillights, and "Disney100 Platinum Edition" badging.
Inside the car, the "Disney100" logo is found on the floor mats, front seat headrests, and center console.
The outline of Mickey Mouse's head is repeated across the door panels, and the touchscreen features a Disney-themed intro complete with iconic Disney music and the "Disney100 logo." A synchronized light show adds color to the cabin, while the etching details on the moonroof are inspired by pixie dust.
Although Hyundai plans to build only a few units, likely with different features, for the U.S.
market, it has been confirmed that none of these will be available in Canada.
Despite the excitement surrounding the IONIQ 5 Disney100 Platinum Concept, car enthusiasts and Hyundai fans are more thrilled about the upcoming IONIQ 5 N, a high-performance version of the electric crossover with around 600 horsepower, due for release in 2024.